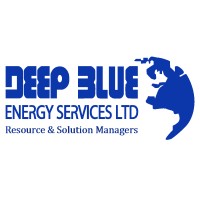 Apply for Deep Blue Energy Recruitment 2022, DBESL Job Vacancies & Careers as portal opens. Find Deep Blue Energy Services Limited (DBESL) Jobs Recruitment today. Scroll down to see more about Deep Blue Energy, Deep Blue Recruitment process and Application deadline.
ABOUT DEEP BLUE ENERGY SERVICE LIMITED (DBESL)
Deep Blue Energy Services Limited (DBESL) is a resource and solution management company that specializes in assisting international/Local companies in identifying Potential market opportunities, assisting with permits, sourcing highly skilled employees, bidding on and negotiating contracts and navigating the often complex political and policy environment of many sub Saharan African countries.
Ongoing Deep Blue Energy Recruitment 2022 Positions:
1.) Legal Officer (Company Secretary)
Location: Lagos
Deadline: 1st June, 2022.
Click Here To View Details
2.) Laboratory Technologist
Location: Lagos
Deadline: 12th May, 2022.
Click Here To View Details
3.) HR Team Lead
Location: Lagos
Deadline: 9th May, 2022.
Click Here To View Details
How to Apply for Deep Blue Energy Recruitment 2022
Interested and qualified candidates should follow the 'click here to view details' link beneath each position
Older Deep Blue Energy Services Limited (DBESL) Jobs Recruitment
2.) Assistant Legal Officer
Location: Lagos
Deadline: 2nd May, 2022.
Click Here To View Details
3.) Security Guard – Gateman
Location: Lagos
Deadline: 28th April, 2022.
Click Here To View Details
4.) Security Guard – CCTV Operator
Location: Lagos
Deadline: 28th April, 2022.
Click Here To View Details
5.) Maintenance Operator
Location: Lagos
Deadline: 28th April, 2022.
Click Here To View Details
6.) Labor Operator – Banksman and Twistlocks
Location: Lagos
Deadline: 28th April, 2022.
Click Here To View Details
7.) Shift Supervisor
Location: Lagos
Deadline: 28th April, 2022.
Click Here To View Details
8.) Plant Operator
Location: Lagos
Deadline: 28th April, 2022.
Click Here To View Details
9.) Port Facility Security Officer
Location: Lagos
Deadline: 28th April, 2022.
Click Here To View Details
10.) Finance Manager
Location: Lagos
Deadline: 28th April, 2022.
Click Here To View Details
11.) HSE Manager
Location: Lagos
Deadline: 26th April, 2022.
Click Here To View Details
12.) Human Resource Manager
Location: Lagos
Deadline: 26th April, 2022.
Click Here To View Details
13.) Terminal Manager
Location: Lagos
Deadline: 26th April, 2022.
Click Here To View Details
14.) Finance Officer
Location: Lagos
Deadline: 7th April, 2022.
Click Here To View Details
15.) Construction Engineer
Location: Lagos
Deadline: 7th April, 2022.
Click Here To View Details
16.) HSE Officer
Location: Lagos
Deadline: 7th April, 2022.
Click Here To View Details
17.) Head, Retail Marketing
Location: Lagos
Deadline: 7th April, 2022.
Click Here To View Details
18.) Site Engineer
Location: Lagos
Deadline: 7th April, 2022.
Click Here To View Details
19.) Rig Supervisor
Location: Lagos
Deadline: 7th April, 2022.
Click Here To View Details
20.) Finishing Supervisor
Location: Lagos
Deadline: 7th April, 2022.
Click Here To View Details